A RESEARCH WORKSHOP, TEXT & IMAGE IN RELIGIOUS COSMOGRAPHY: READING ILANOT AND PARALLEL ARTIFACTS, TOOK PLACE AT THE UNIVERSITY OF HAIFA FROM 25-27 JULY 2011.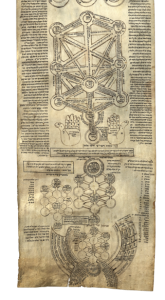 Text & Image in Religious Cosmography: Reading Ilanot and Parallel Artifacts
9:45-10:45 Greetings & Introduction
Prof. Daniel Gutwein, Chair, Dept. of Jewish History
Introduction to Ilanot & Presentation on current ISF Research by Dr. Chajes:
Cosmological Forests: A Cultural History of Kabbalistic Cartography
10:45-12:45 Session I – Chair: Prof. Jonathan Schorsch
Prof. Daniel Abrams: Text & Paratext in Early Kabbalah
Prof. Hartley Lachter: Mapping Divine Territory: Commentaries on the Ten Sefirot from Late 13th Century Castile
Dr. Ronit Meroz: They Said it Before: On Systematic Visual Thinking Before the ARI
14:00-15:00 Session II – Keynote Presentation – Chair: Dr. Adam Afterman
Prof. Moshe Idel: "A Kabbalistic Mandala: From David ben Yehudah he-Hasid to Luria"
16:15-18:45 Session III: The Gross Family Ilanot
Practicum devoted to studying the original scrolls in this collection
Day Two – Tuesday July 26
9:00-11:00 Session IV – Chair: Prof. Chaim Hames
Prof. Marc M. Epstein: Maps and Memes: Visible and Invisible Universes in Jewish Visual Culture
Prof. Abraham Melamed: Divine King, Human King: Representations of Monarchy in Illuminated Manuscripts
Prof. Daniel Stein Kokin: The Jericho Labyrinth: The Rise and Fall of a Jewish Visual Trope
11:15-13:15 Session V – Chair: Dr. Zur Shalev
Prof. Marla Segol: Text, Form and Image: Considering Method
Dr. Ayala Meir: The Cosmic Circle of Ibn al-Sid al-Batalyawsi: The Representation of a Humanistic World View
Prof. Tzvi Langerman: Circles of Reality: Illustrations Accompanying Philosophical Texts, From the Early Ismailis to Haydar Amoli
14:30-16:30 Session VI – Chair: Prof. Hartley Lachter
Prof. Chaim Hames: Connecting Heaven and Earth: Joachim of Fiore's Liber figurarum
Dr. Zur Shalev: Maps, Pilgrimage, and Devotion
Prof. Catherine Harding: Cosmos, Creation and Self: The Religious Diagrams of Opicinus Canistris
16:45-18:45 Session VII – Chair: Prof. Boaz Huss
Dr. Evelien Chayes: Earthly Stones, Heavenly Stones: From the Priestly Breastplate and Christian Architecture to a Christian Kabbalistic Diagram
Prof. Daniel Stolzenberg: The Hybrid Image and the Christian Kabbalah: The Roots of Kircher's Trees
Prof. Fabrizio Lelli: The Sephirotic Tree of Elijah Menahem Halfan
Day Three – Wednesday July 27
9:00-11:00 Session VIII – Chair: Prof. Daniel Stolzenberg
Prof. Amos Megged: Time & Space in Mesoamerican Cosmology
Dr. Dan Martin: The Cosmic Purusha and the Body Mandala: A Unique Example from 11th Century Tibet
Dr. Naama Vilozny:  "This is the Image of Evil…" – Text-Image Relationship in the Babylonian Incantation Bowls"
11:15-12:45 Session IX – Chair: Prof. Fabrizio Lelli
Dr. Raz Chen: Images of Nothing Around 1600
Dr. Yael Justus-Segal: "Pure verity understanding and recovering of divers secret" in John Dee's Diagrams and Maps
14:15-16:15 Session X – Chair: Prof. Catherine Harding
Dr. Menachem Kallus: The Truly Great Parchment: Oxford 1949
Prof. Jonathan Schorsch: Jewish Angels in the Light of Comparative (Art) History
Prof. Boaz Huss: "The first official government medal which can also be seen as an amulet": Contemporary Representation and Reproduction of Kabbalah in an Official Medal of the State of Israel
16:35-17:30 Session XI – Chair: Dr. Yossi Chajes
Open discussion about lessons learned, next steps, publication, etc..
Funding provided by the Israel Science Foundation and the University of Haifa, with additional funding from the Dean of the Humanities, Rector and President of the University, the City of Haifa, and The Wolfson Chair for the Study of Jewish Cultural Heritage. We also gratefully acknowledge the support of William & Lisa Gross.
The program is available here:  Ilanot ISF Workshop Program.pdf